Two Libyan soldiers stationed in the UK who acted like "hunting dogs" have each been sentenced to 12 years in jail for raping a man in Cambridge.
Moktar Ali Saad Mahmoud, 33, and Ibrahim Abugtila, 23, were found guilty of raping and aiding and abetting the rape of the man in his 20s in Christ's Pieces park in October.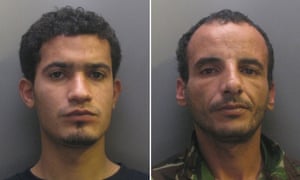 They were arrested while training at Bassingbourn Barracks in Cambridgeshire as part of an agreement by the British government to help Libya after the 2011 collapse of Muammar Gaddafi's regime.
Cambridge crown court heard how the pair targeted a victim who was drunk and vulnerable after a night out. DI Alan Page, who led the investigation, said: "This was a truly horrendous crime and I hope today's result will allow the victim some closure and to begin rebuilding his life.
"He has shown tremendous bravery throughout this whole process and I am grateful to him for the trust he placed in police in ensuring that justice was done. These men deliberately targeted their victim because of his vulnerability that night, which they took advantage of to commit this callous crime."
Mahmoud and Abugtila denied attacking the man but were caught on CCTV leading him to the park after meeting him after a night out. Prosecutor John Farmer said they "picked off" their victim, who was drunk and vulnerable, like a "wounded animal".
The man, who cannot be named for legal reasons, told officers: "I cannot believe what I'm saying – they raped me. It was horrible, I feel horrible. Don't say anything to my mum."
The men were among several hundred Libyan army cadets on a training mission with the Ministry of Defence. After the sexual offences, the scheme – intended to train 2,000 troops to bring security to the north African state – came to an end.
In a later interview, he said "three Arab guys" raped him. Describing them as "animals", he added: "I was trying my hardest. I was trying my hardest and they were like overpowering me."
The man told officers: "They were horrendous, they weren't human. They weren't human people. They were horrendous people, they were sick people. They don't deserve to live, they shouldn't be alive."
YGB says: That's surprising. Gays always tell us they are more sensitive and feminine, and that homosexuality is an escape from the violent oppression of patriarchy.
http://www.theguardian.com/uk-news/2015/may/15/two-libyan-soldiers-jailed-for-raping-man-in-cambridge