Stuart Makemson, a businessman of Braintree in Essex, England, was relaxing on Saturday night at home when he heard a crashing sound. His neighbour had just backed a car into his fence!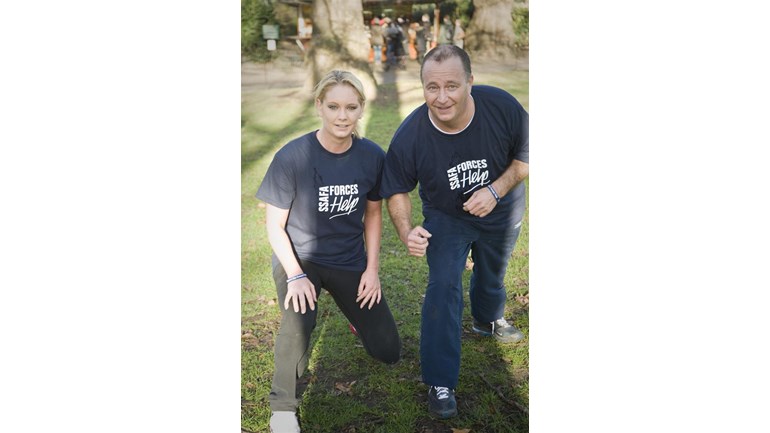 Stuart Makemson and his wife running to raise money for charity.
Stuart was playing billiards and had enjoyed a few drinks earlier, but when he saw the damage he went straight over to his neighbours' house and told them they wouldn't get away with this. He waved his billiard cue at them furiously. "Don't deny it!" he said, "it's your car so it must have been you, your wife or that gay son of yours!  I will be suing you for damages."
When they heard the words "gay son," his neighbours thought of a way of getting back at him. They rang up the police and complained that Stuart had behaved menacingly and was guilty of "homophobic abuse". The police took this very seriously and brought charges against Stuart Makemson. The neighbours, angry at having to pay for the damaged fence, told the judge that Makemson had committed the grave crime of "homophobia" and that by waving a billiard cue he had displayed violent tendencies and might have carried out an assault.
""Jonathan Longman, prosecuting, said: "The defendant appeared outside the address in an intoxicated state and proceeded to shout homophobic comments. Mr Morrison and his partner heard Makemson shouting "you gay boy". He appeared to have a baton in his hand, one or two feet long. He was swinging a baton around.
"Police were called and advised that everyone should go back into the house. No injuries were sustained."
Despite having no previous record of any charges or convictions, he was sentenced to three months in prison.
Mr Makemson runs a building company that employs eleven other people. When he was sentenced, he was about to go to Saudi Arabia to carry out a new contract, but he lost the contract because of the accusation of "homophobia."
He and his wife are pillars of the community in Braintree and are well-known for taking part in charity fund-raising events.
http://www.justgiving.com/DSMConsultants
Posted on August 8, 2012 by clairethinker Edit