The UK state education system is imposing more and more extreme LGBT indoctrination on kids at a younger and younger age. They have only got to step into school for the first time aged five, to be surrounded by story books and posters telling them sheer lies  – such as that a baby can have "two mothers" or that people can "change sex". They are faced with cross-dressing teachers, imaginary "gay history" and nonsense about "gender unicorns".
In some parts of England, parents are mobilizing to resist the ever-worsening war on children's minds.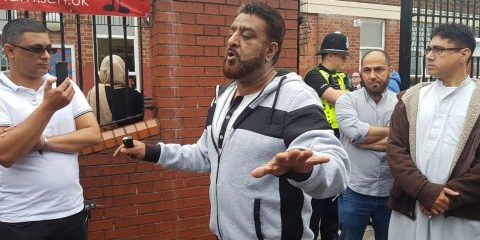 At Anderton Park school in Birmingham, parents, mainly Muslim, have protested outside the school and have been legally banned by a court hearing from holding any more demonstrations – which is a violation of their legal rights. But then, so is the so-called "Relationships and Sex Education". By UK law and under Human Rights legislation, parents are supposed to be able to choose what RSE their children are taught.
So parents have kept their children out of school altogether. In retaliation, the local education authority is prosecuting them and those who will not cave in face massive fines of up to £2,500 plus a prison sentence.  Some still say that they will defy the rotten law. 
YGB says: This is war. 
https://thebridgehead.ca/2020/02/06/dad-may-face-prison-for-refusing-to-allow-the-lgbt-movement-to-indoctrinate-his-son/