Phillip Schofield is a 57-year-old TV presenter in Britain, co-host of show called This Morning which I can't say I have ever watched. This past week he decided to announce he is homosexual and was greeted by an obviously orchestrated fanfare of applause and congratulation. Media outlets

are drooling that he is "brave and stunning" and that we should all admire him for being "honest"… Really?

His TV female co-host Holly Willoughby interviewed him and treated him  as some sort of hero,  squeezing his hand while he
basked in the limelight.
W

hat's so "honest" about cheating on his wife who has been married to him for 27 years, and then humiliating her in public by saying you prefer other males? He's embarrassed his daughters and whole family. 
No sooner had the LGBT groups issued their call for "celebration" than ugly rumours started to circulate. It seems that Schofield (above, right) has been involved for the past six years in a relationship with a young man called Matthew McGreevy who works as a studio runner at ITV. He used to work on This Morning and then had a bust-up with Schofield, so he moved to another show called Loose Women.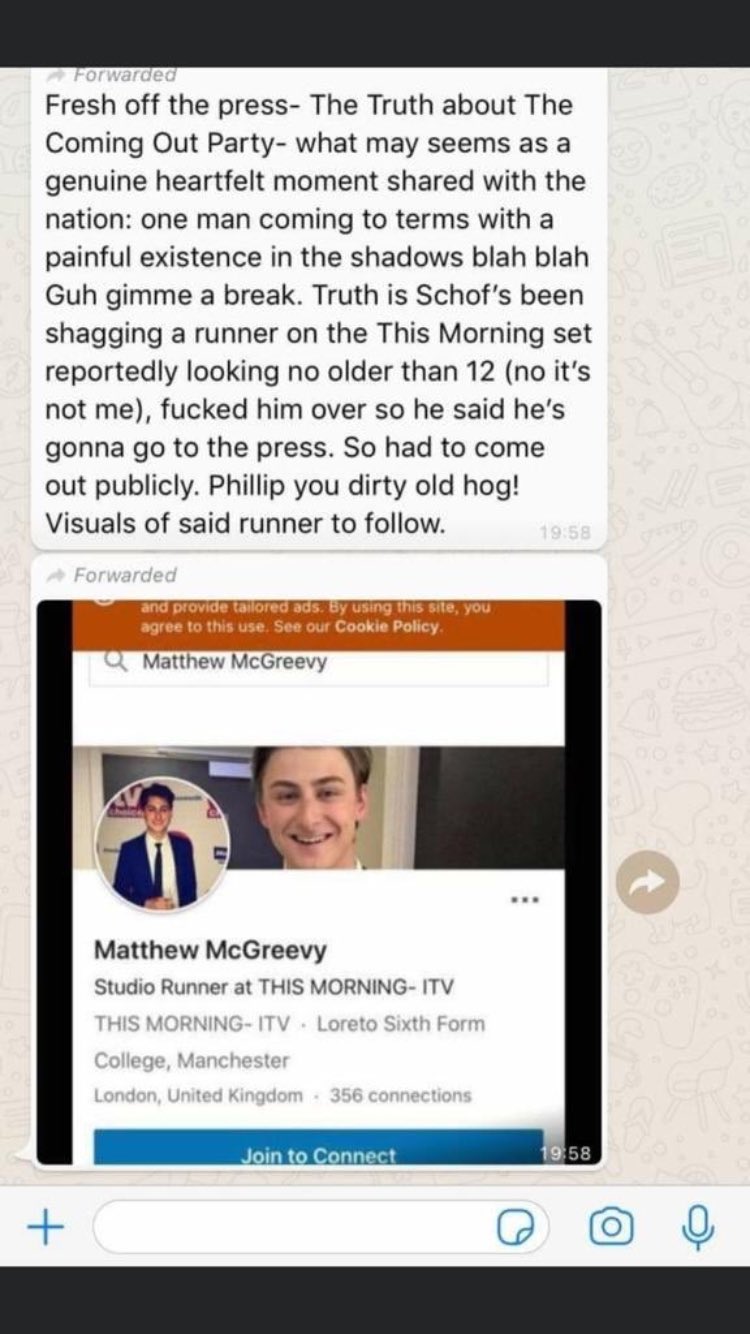 Schofield only decided to go public when the young man, whom he had dumped, threatened to go to the papers and blab about the affair. Schofield wasn't brave, he was just trying to put a spin on the inevitable.
This is Matthew when Schofield picked him up – really just a child. Would you like your son treated like that?
Schofield has acted up his part melodramatically, claiming that he has suffered inner trauma, been to counsellors for years and he buried his head in the lap of an "agony aunt" on prime time TV. All to gain sympathy – get attention  – insist he is a victim. Yet in one interview he admitted he had known he was queer even when he married his wife 27 years ago. What a rat!
McGreevy is now 24, but was involved with Schofield from age 15 judging from his Twitter account which plainly displays messages between him and Schofield going back to 26th March 2011.
16 is the age of consent in England.
Was this how young Matthew got his job at ITV, and eventually being made Schofield's "personal assistant"? Apparently he is one of many youthful gophers that Schofield has, er, taken under his wing, acting as a "mentor" – ahem! – and getting them jobs. He's got Matthew several acting opportunities apparently. And there are a LOT of dissenting voices on social media that are refusing to go along with the LGBT "brave and stunning" narrative. 
https://www.politicalite.com/entertainment/revealed-phillip-schofield-came-out-after-affair-with-runner-was-about-to-be-exposed/
https://www.thesun.co.uk/tvandshowbiz/10923868/phillip-schofield-admits-he-knew-he-was-gay-when-he-wed-27-years-ago-in-his-only-interview-on-coming-out/
https://www.manchestereveningnews.co.uk/incoming/hyde-actor-meets-morning-phillip-7506214.amp