Illegitimate government abuse of parents' rights.
Exclusive interview: Canadian father Rob Hoogland talks about his case, his time in prison, and his pending court appeal by a prominent attorney.
The appeal could overturn outrageous new "transgender case law" precedent in Canada.
December 8, 2021
VIDEO: Exclusive interview with Rob Hoogland (60 min 48 sec)
https://rumble.com/embed/vnrrsc/?pub=j2bn3Arthur Schaper (left) of MassResistance interviews the Canadian father – who must identify himself only as "CD" by order of a judge.
NOTE: A Canadian judge has banned the father, Rob Hoogland, from revealing his name or face in connection with this case. He is required to be identified only as "CD." In the interview (above), he was careful to abide by all of the court's restrictions. All media in Canada are also ordered to comply with that. But MassResistance – based in the United States – is not subject to those orders.
As MassResistance has documented, Canadian father Rob Hoogland's case drew international outrage – which exploded after a judge sentenced him to six months in prison. His crime? Breaking a gag order preventing him from speaking about the government-forced "gender transition" of his daughter. His parental rights to stop those gruesome and irreversible medical treatments were flat out denied.
Last month, Rob spoke with MassResistance's Arthur Schaper to update us on his case: His shocking six-month sentence (for breaking the gag order), his experience in jail, his recent release, and his attorney's appeal of that sentence.

The outcome of this case could change the course of Canadian law on parental authority over a child's "gender transitioning."
Here's what Rob ("CD") talked about with MassResistance in this blockbuster interview:
He gave an excellent overview of the case. It's been a horrible four-year ordeal. He initiated the case to stop the government and the "gender clinic" from giving his daughter irreversible "sex change" hormone and puberty blocking treatments.

But the power of the LGBT movement was over­whelming. They brought in a team of lawyers against him. They persuaded the judge to impose extensive "gag orders" to keep him from discussing the case with anyone. Nevertheless, Rob refused to be silenced and continued to inform other parents – and the world – about what was happening to him and his daughter.

So, a judge did something unprecedented. He changed Rob's breaking of the "gag orders" from a civil infraction – amounting to simply fines – to criminal charges. They put him in prison while he was awaiting trial on those criminal charges. The judge explained his action by comparing Rob to rioters stopping traffic.
Rob talked about his time in the prison. He had never been in that situation before, and it was very chilling. Most of the time he was put in solitary confinement for 23 hours a day. Any showering, shaving, or phone calling had to be done in the hour he was allowed out of his cell. However, after a while the guards realized he was "unusual" because he was getting a lot of mail, and when they found out why he was there, they generally respected him for it, he said.
Rob talked about the "show trial." Just before his trial in April, Rob's lawyer reached a plea bargain with the Crown (i.e., the prosecutor). Rob was to plead guilty in return for a sentence of time already served.

But the judge rejected the plea bargain. He was clearly angry at Rob, wanted to make an example of him, and insisted on a trial – where he would decide Rob's fate. It was a classic "show trial." Rob was forced to appear in court in his prison clothes in handcuffs. Even Rob's attorney was treated terribly. After a two-day trial, the judge sentenced Rob to six months more in prison. So Rob was put back in with criminals. He was also fined $30,000 – to be paid to the Ronald McDonald Foundation, a pro-transgender charity.
Rob's conviction has now become a "case law" precedent to use against other Canadian parents. Because Rob was "convicted" – and this case stems from the original case he brought against the government – other Canadian parents who have objected to the government pushing "transgender" treatments on their children have been told that the courts have now ruled they have no say in the matter. It also serves to intimidate parents into silence.
Friends helped Rob find a top attorney for his appeal. Vincent Larochelle specializes in appeals of criminal cases. He's considered among the best in the country. But he's had to work very hard on this one, because of the LGBT influence in the court system. But he finally got Rob out on bail – as long as Rob now abides by the "gag order."
The appeals lawyer makes a startling tactical decision. Vincent Larochelle had intended to appeal only Rob's prison sentence. But he's decided to take on the entire conviction – which he says he believes he can win. This would nullify the "transgender case law" being used against other parents. Ironically, if the judge had accepted Rob's plea bargain – and "guilty" plea – the lawyer would not be able to appeal it – and the "case law" would stand.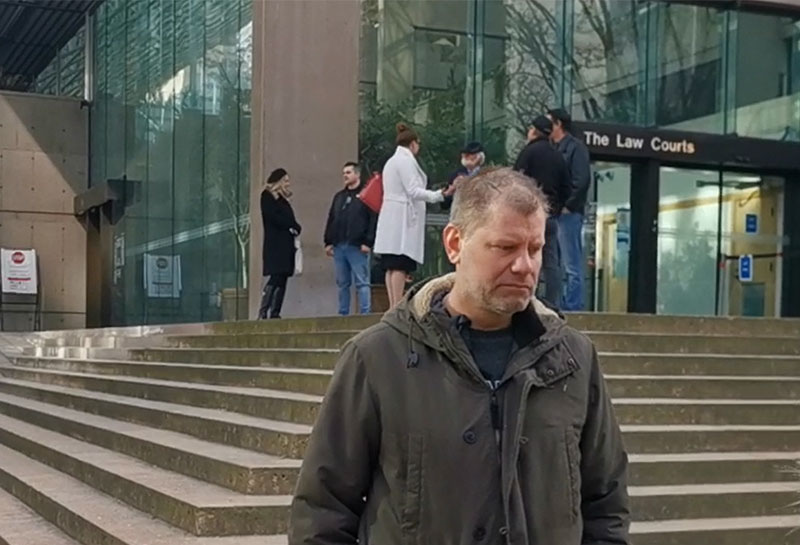 As his supporters gather in front of the entrance, Rob Hoogland takes a last look outside of the Court building before turning himself in for his bail hearing on March 16. He was denied bail and put into prison to await trial.
This is definitely one of the more interesting interviews we've done!
How can you help Rob? Rob and his attorney are now preparing his appeal. Any donations to that cause would be greatly appreciated.
A win here could possibly lead to criminal complaints being filed against the doctors who perform these horrible procedures on children. But a loss could lead to even greater oppression against parents in Canada – and even the lawyers who choose to help them.